Meet Lavazza A Modo Mio Voicy: This Coffee Machine Has Alexa Inside
Do you like coffee? Do you like technology? Too lazy to make your own coffee? Want Alexa to do it for you? No problem. Lavazza has launched a coffee machine with Alexa technology that lets you prepare your morning drink using just your voice.
When you think of making your morning latte or cup of joe, you imagine each step. Boil the kettle, grind your coffee, steam the milk, and so on. Lavazza has released a coffee machine that lets you make your morning brew using just your voice.
In case you've not seen the smart coffee machine, here's everything you need to know.
Single-serve coffee makers, often referred to as "capsule coffee makers," have been there around since the mid-1980s and allow you to create barista-style drinks with minimal fuss. Ground coffee is contained in a capsule that is pierced several times at the start of brewing so that the water can be forced through the coffee. The capsule is then injected into a container that can be emptied directly into the waste bin.
Nespresso is perhaps the best-known manufacturer of capsule coffee machines, but other brands such as Lavazza are giving the brand a run for its money with their simple and easy-to-use coffee machines. So it's no surprise that almost one million Brits bought disposable coffee makers in 2019, according to Statista.
Lavazza partnered up with Amazon to release the advanced coffee machine. The product works just like a usual pod coffee machine, but with a twist–it has Amazon's Alexa built-in. The new espresso machine, called the A Modo Mio Voicy, is the first coffee machine that comes with a smart assistant built-in. Since the A Modo Mio Voicy has Alexa built-in to the machine, it's a much different experience from other smart coffee machines. Rather than yelling out "Alexa, make me a latte" to your smart speaker on the windowsill, you can talk right into the coffee machine itself. And, of course, the coffee machine will talk right back to you.
Furthermore, you can use the coffee machine in place of a smart speaker in the kitchen, and use all the usual Alexa functions. This means you'll be able to ask your coffee machine what the weather is, to play "Wake Me Up Before You Go-Go" to indeed wake you up before you go, or to whisper other sweet nothings into your each. It's almost like having your very own barista (or butler) at home.
Of course, the machine can still make espresso as well as all its hi-tech functions–it wouldn't be a very good coffee machine if it couldn't. Rather than dealing with complicated dials and switches or in-app settings, you can control your coffee settings with your voice. You'll be able to tell the machine what temperature you want your coffee, and how strong you want it, too.
For comparison, existing smart coffee machines are far less advanced. While there aren't many options to choose from, the products that are available are much more basic coffee makers. They use the traditional filter method to brew coffee, rather than the pod method. Also, these machines can only be controlled by your existing Alexa devices, rather than having the assistant built right in.
LAVAZZA A MODO MIO VOICY REVIEW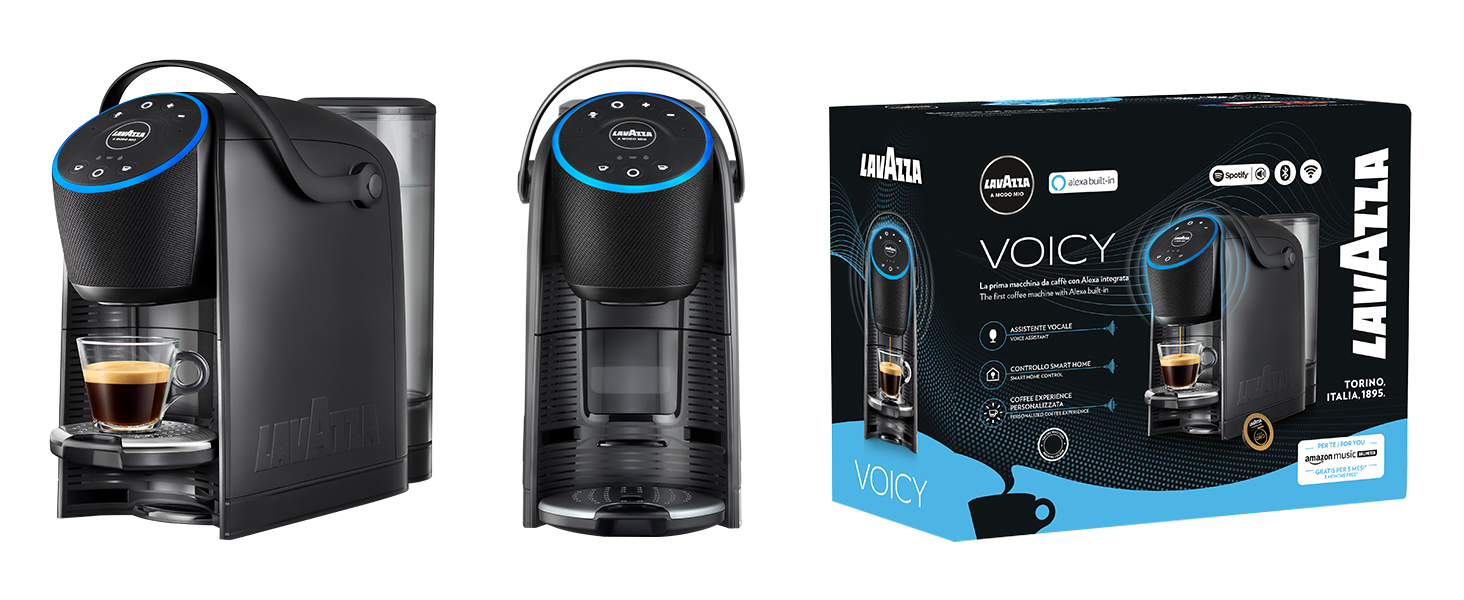 | | |
| --- | --- |
| Pros | Cons |
| Built-in Amazon Alexa Technology | No milk tank |
| Compostable coffee capsules | Expensive at full price |
| Impressive Espresso | Smart coffee options still limited |
Lavazza A Modo Mio Voicy is a capsule coffee machine with touch control and app control system. It is the first built-in coffee machine with Alexa and Smart Home Control. The machine is available in only one color and weighs around 4.5 kg. It includes a cup holder with two height levels and holds 1.1 liters of water. Some removable parts are dishwasher safe.
Lavazza A Modo Mio Voicy  machine with Alexa Technology is made for those people who have busy schedule. Simply say, "Alexa, Make me a cup of coffee" and your coffee will be ready in no time. The best feature is that you can use the Lavazza app to adjust the strength or temperature of your coffee, and also ask Alexa to play your favorite music while you sip your delicious espresso.
You can create your own supply of capsules and order them through the Lavazza or Alexa app. If you're using it for two people, the capsule drawer holds up to ten original biodegradable A Modo Mio capsules, which should last you a few days. These capsules come in a variety of flavors that you can choose and get on Amazon as well.
Using Lavazza-compatible coffee capsules, this machine can prepare two different types of coffee: Espresso and Espresso lungo, which take a little longer to prepare but result in stronger coffee. You can also adjust the volume of coffee produced for each cup. The Lavazza A Modo Mio Voicy includes a 1.1-liter water tank along with a container for used capsules that can hold 10 capsules at a time.
There's no steam wand with this model, and at £249.99 it's one of the most expensive disposable coffee makers we've tested. However, for those who want to be able to customise the volume of coffee and want built-in Alexa smart technology, this coffee maker is worth it.
LAVAZZA A MODO MIO VOICY PRICE AND AVAILABLITY
The Lavazza A Modo Mio Voicy is the company's flagship coffee machine, priced at £249.99. It is available through Lavazza direct as well as through Amazon.
Capsules cost: 
The Lavazza A Modo Mio Voicy capsules cost about  £4.40 each, this comes to a total of £396 at £50.
Now launching in Australia, the highly anticipated Voicy machine is available on Amazon and Lavazza's online store for RRP$349. To mark the collaboration, "Voicy" has launched  on Amazon Prime Day at an introductory price of $279.
LAVAZZA A MODO MIO VOICY SMART DESIGN
SIZE AND WEIGHT
| | |
| --- | --- |
| Width | 157 mm |
| Depth | 380 mm |
| Height | 300 mm |
| Weight | 4.5 kg |
ENERGY CONSUMPTION
| | |
| --- | --- |
| Power consuption | 1450 W |
| Voltage | 220 – 240 V |
| Frequency | 50 – 60 Hz |
| Automatic Shut-off | 9 min |
TECHNICAL FEATURES:
| | |
| --- | --- |
| Removable components | Drip Tray, Cup Grid, Used Capsule Container, Water Tank |
| Cup grid material | Chromed Metal |
| Water Tank Capacity | 1.1 l |
| Used caps auto-ejection | No |
| Used caps drawer capacity | 10 capsules |
| Heat-up time | 35 sec |
| Coffee Preset | Yes |
| Recipes | Espresso, Long Espresso |
| Mobile app connectivity | Yes |
| Vocal assistant | Yes |
LAVAZZA A MODO MIO VOICY FEATURES AND FUNCTIONS
INTERACT WITH VOICY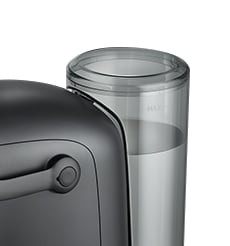 You can choose how you prefer to interact with your espresso machine: analogue, voice, or digital.
FULL CUSTOMIZATION
You can create your own personalised coffee and name your favourite espresso.
YOUR SMART HOME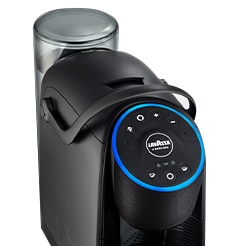 You can ask for an espresso and also control all the smart devices in your home and office.
ENTERTAINMENT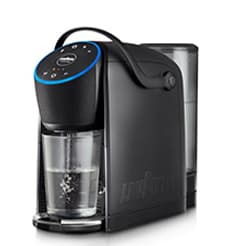 Music, news, weather, and more: you'll have the whole world of Amazon Alexa at your fingertips.
LAVAZZA A MODO MIO VOICY SET UP & USAGE:

SETUP
It's easy enough to set up Lavazza A Modo Mio Voicy- just link it to your Amazon account via the Piacere Lavazza app on either your Android or iOS device. You'll need to create an account with Lavazza and will also be prompted to link the Voicy to your phone via Wi-Fi.
USAGE:
It took just 24 seconds to brew 30 ml of espresso with a compatible capsule. The resulting coffee was smooth and rich, with a thick foam that formed after a teaspoon of sugar was sprinkled over the hot drink. The coffee registered a temperature of 68ºC immediately after dispensing, which is an acceptable level for this hot drink. Adjusting the setting to "extra hot" saw the temperature on our thermometer rise to 72°C.
We also brewed a 60ml Espresso Lungo on the Lavazza A Modo Mio Voicy, which took 31 seconds to dispense. Our decibel meter registered 53dB when pouring espresso, making it one of the quietest single-serve coffee machines we've tested – that's the equivalent of light rain and more than acceptable in our eyes.
While this machine didn't result in a lot of splashing when pouring drinks, there was some dripping after the coffee finished dispensing.
As for Alexa smarts, we found that the voice assistant responds to a question or to perform a task, such as making coffee (although you'll need to make sure the capsule is inserted and the cup is in place in front of you. Do it).
Alexa was also able to efficiently adjust the temperature of the coffee we brewed, as well as provide a weather report and play our favorite Michael Bublé album on Spotify.
The removable drip tray, water tank, and container for used capsules are dishwasher safe, so the Lavazza A Modo Mio Voicy is very easy to clean.
Lavazza A Modo Mio Voicy- Should I buy It?
You're on a budget
At £249.99, this is one of the most expensive pod coffee machines we've tested. If your budget is tight, look elsewhere.
You prefer milk-based coffee drinks
With no ability to texturize milk, this coffee machine isn't suitable for making long, creamy coffee drinks
You want to make an array of different coffee
The Lavazza A Modo Mio Voicy can only make espresso and espresso lungo. If you want to make a range of different coffees, then consider a different machine.