Digital Guardian for IT Devices-Zobi Hedgehog
Everything is connected, but not everything is protected.
Hedgehog, the digital guardian, aims to simplify your home security.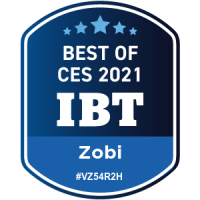 What Is Hedgehog?
Zobi Home Intelligence is an AI solution for detecting and preventing cybercrime in the home. 30% of all smart home devices are hacked, and 1.8 billion passwords are being sold on the dark web right now. To help stop this, Zobi scans the home network to see what the day-to-day activity looks like, then creates an algorithm to spot anything suspicious. It will scan for vulnerabilities, monitor the dark web, and identify any unwanted traffic or unknown devices to block them.
Zobi Hedgehog is an easy-to-use home network security solution that works alongside traditional antivirus and firewall solutions. The smart device observes, detects, and stops intruders on the network while providing a WiFi network with parental controls and bandwidth priority for home workers. With modern routers, protecting your network is a challenge. Hedgehog, the digital guardian, aims to simplify the security of your home.
Traditionally, your router has been the internet entry point to your home. These units come with many settings for privacy, security, and connectivity. But, it's not easy to use, set up, or maintain. Routers haven't kept up with the modern, intuitive designs found in other gadgets.
Consequently, you might be putting your data and your home at risk. With innovations from smart lightbulbs to digital home assistants becoming more commonplace within the home, sadly, this increased connectivity can become a target for cybercrime. Devices to provide network protection to prevent hackers from listening to private conversations, tracking movements, and stealing passwords are growing in number, but few provide the small and cute design of the Hedgehog, which like its namesake proves prickly in the face of an attack.
Hedgehog, described as a digital guardian, plugs into your router and protects your network from a range of security, privacy, and safety concerns. Hedgehog uses Zobi Home Intelligence to detect and prevent cybercrime across your entire home network, but rather than being another piece of technology hidden away, its designers have looked to make it as attractive as it is protective.
Internal Storage: 
The device comes with 1 GB of RAM, 4 GB of internal storage, and support for 2.4 GHz and 5 GHz networks. It is powered via a USB-C port and supports Bluetooth wireless connectivity.
Hedgehog can detect and block suspicious activity and devices on your network. The unit constantly searches for unknown connections and stops them. This feature is based on a wide range of data, including information on more than 14 billion Internet of Things (IoT) devices.
How does a hedgehog work?
Any connected device can be whitelisted, blocked, and monitored.
You can easily visualize your network using the hedgehog map feature.
You can also run speed tests, monitor outages, and compare them with regional performance.
You can set up a guest Wi-Fi network to keep your primary network separate and secure.
Visitors also don't need a password because Hedgehog supports NFC. A quick tip on the drive allows a simple connection without a password.
Importantly, the unit features intrusion detection and prevention powered by Zobi Home Intelligence.
This AI-based cloud analysis is anonymized, so nobody can identify your data.
Hedgehog Price and Availability
Like many products introduced at CES 2021, the Hedgehog is not yet commercially available.
If you want to guarantee the device, you can pre-order the Hedgehog on the company's website.
You have a choice of accent colors: Midnight Blue or Orange Belly.
Zobi Hedgehogs are available for a pre-order price of $135.55, but that price will more than double once the promotional period ends